MILK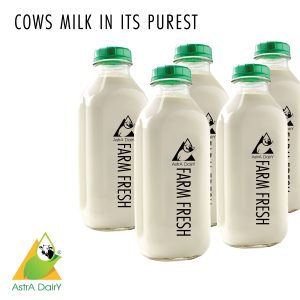 Whether poured atop your morning cereal, added to your mid-day coffee, or enjoyed with cookies fresh from the oven, milk is a wholesome and healthy choice at any time of the day.
Whole milk is a good source of protein and an important part of a balanced diet, organic milk provides even more benefits, with about 62% more omega-3s than conventional milk.
Why is this important? It is the perfect brew of all the required nutrients for the body. Calcium, vitamin D, vitamin B, and B12, and Potassium are the well-known nutrients in milk. But did you know milk is also rich in the 9 types of amino acids that our body requires to make proteins..
Astra Dairy provides you with natural cow milk in chennai, which means, our milk is never made with gums, stabilizers, additives, preservatives, artificial ingredients, coloring agents, or fillers. Which as you know can't be said for most of the plant-based alternate you'll find on grocers' shelves.
"The Astra Dairy difference" is about more than how our products are made. It also speaks to the sustainable natural farming practices since 2011. Natural practices prohibit the use of pesticides, herbicides, and chemical fertilizers. We strongly believe that natural products are the right choice not only for us, but also for our environment and our future generations.